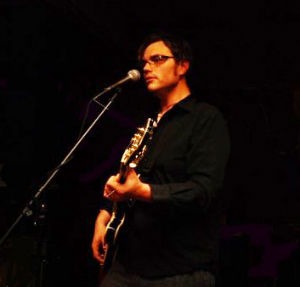 If you're considering taking guitar lessons from me, you might want to know a bit about me. My name is Rick Klaras.
I am a singer, songwriter, guitarist, and bassist. Guitar was in my blood from a young age. I started playing air guitar at 4, and begged my parents for a real guitar every Xmas, until I finally got one. I fumbled around with it a bit, but I didn't really start to make progress until I started to take guitar lessons, when I was about 12 years old.
I also play keyboards (I have a weakness for vintage analog synthesizers), and a little bit of cello, but don't ask for lessons on either of those, because I'm not qualified for that job! But if you're looking for a fun, experienced, patient guitar or bass teacher in Portland, you'll find that I'm well-qualified to help you become the musician you want to be.
I have been teaching guitar for nearly 15 years. I started giving lessons just out of high school, mainly to friends who wanted to learn to play. It was so rewarding to see my students progress. I loved it! Since then, I have helped private students of all ages and walks of life to reach their musical goals. I'm confident that I can do the same for you.
My curriculum is student-directed, so whatever your goals are, I'll put together a plan that will help you get there. I can teach you to play your favorite songs, and write your own tunes. We'll cover improvisation and part-writing.  You'll also learn about music theory, and how to use it. We can cover standard notation, and if you'd like to learn to record and mix your own songs, we can do that, too.
Thanks for reading. If you'd like to hear me play, click here. Or, if you're looking for a great Portland guitar teacher, click here.
"…Rick takes the time to develop lesson-plans that focus specifically on what I want to learn, the way I need to learn it. …my guitar skills have increased more in just a few months with Rick than I would have thought possible…"
-Daniel R, Portland OR