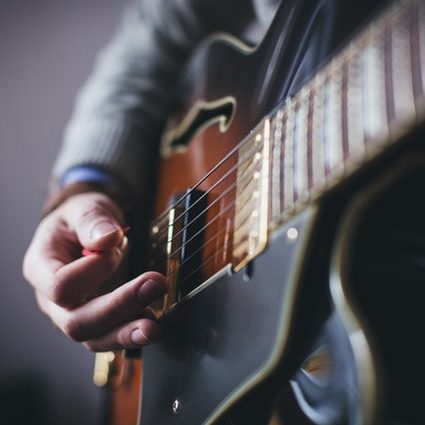 As a beginner guitarist, you might be aware that some guitar players play guitar with their fingers, while others use a guitar pick. Which guitar technique is right for you?
You might not be sure what style of guitar player you'd like to become, and that's totally OK. But you should know that the choice of whether to play with fingers or a pick depends on what style of music you want to create.
When to Use a Pick
Guitar picks allow players to create sounds that fingerstyle players will have a tough time replicating. Playing with your fingers makes it nearly impossible to get the same articulation and attack that a guitar pick provides.
Generally speaking, blues, rock, bluegrass, jazz, and metal players tend to use picks, especially when playing lead guitar. Lead guitar is the focal point of the song when the guitar solo kicks in.
You don't need to look far to find examples of famous rock guitarists who play with picks, as pretty much all of them do.
When Not to Use a Pick
The fingerstyle guitar technique may not lend itself to crushing power chords or pinch harmonics, but it certainly has its advantages. A player can imbue a chord progression with wonderful movement using fingerstyle guitar techniques such as Travis picking, not to mention the fact that fingerstyle makes it possible to play multiple notes at the exact same time, and to vary the volume of each note of a chord individually. Pretty exciting stuff!
Classical, flamenco, bossa nova and folk musicians often play fingerstyle guitar.
When It Comes to Guitar Technique, There Are Exceptions to Every Rule
As mentioned previously, many rock and blues players use picks, but that's not always the case. Fleetwood Mac's Lindsey Buckingham never uses a pick, and the same can be said for Dire Strats' Mark Knopfler. For an example of a great electric blues player sans pick, check out Hubert Sumlin. If you listen to any of these players solo, you'll hear a much greater dynamic range than most pick players achieve.
Why Limit Yourself to One Guitar Technique?
The choice of fingerstyle versus using a pick really depends on what type of music you're interested in playing. If you're learning classical guitar, your teacher will probably start you out with a pick.
If you're taking guitar lessons from a teacher whose style falls more into the rock and roll category (like me), you'll likely be schooled in the proper way to play with a guitar pick.
However, it's really great to broaden your horizons. If you're primarily a pick player, why not learn a fingerstyle song? If you're accustomed to playing classical guitar, try branching out into blues soloing!
The guitar is an instrument with so many rich, varied, and diverse traditions. Learn what you can from all of them. You'll be a better, more unique player for it.
If You're Looking for Portland Guitar Lessons, You've Come to the Right Place!
I learned to play guitar from rock and blues players, so I often use a pick. However, my students and I get into fingerpicking from time to time, too!
If you're interested in guitar lessons, please get in touch for a free intro lesson. I'd love to help you reach your musical goals.